First, select the Arbes accounting project (AIACCA), click on the Create button and select the Incoming Invoice issue type.
Fields
To create an issue you need to fill in the following fields.
Summary – Name of the issue. Required field.
Invoice number – Required field.
Date of Taxable supply – this is the tax point date into which the invoice falls. Required field.
Due date – expressed in days. Pre-select values are offered, select the Other field, which displays the Number of days field where you select the value. Required field.
Number of days – In this field we enter the actual value of the due date exressed in days. Displayed only when Other is selected in the Due date field. Required if Other is selected in the Due date field.
Vat payer – If you are a VAT payer then Yes, otherwise No. (VAT payer enters the amounts below without VAT) Required field.
Agency – If you work through an agency then select it, otherwise put No agency. Required field.
Base amount
Sales bonus
Kvartální bonus KPI – Quarterly bonus according to the KPI met
Directors bonus
Year bonus
Standby
Supplemental costs
Description
Attachment – Attach the invoice in PDF format. Please attach a client approved statement to each invoice. This can be an excel generated timesheet or any format from the client's internal systems.

Contact the Payroll accountant from the parent company ARBES Technologies, who is in charge of invoicing:
Miroslava Pražanová – miroslava.prazanova@arbes.com

Cost center – auto-completed field. Required field.
Supervisor – auto-completed field. Required field.
Head of divison – auto-completed field. Required field.
Once all fields are filled in, click Create to ceate the issue.
The picture on the right shows an example of a completed issue.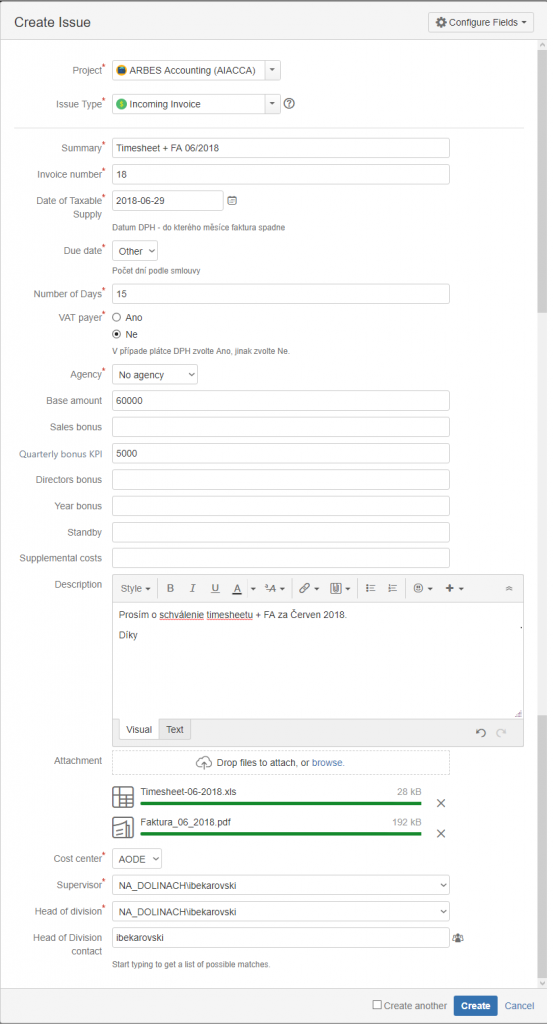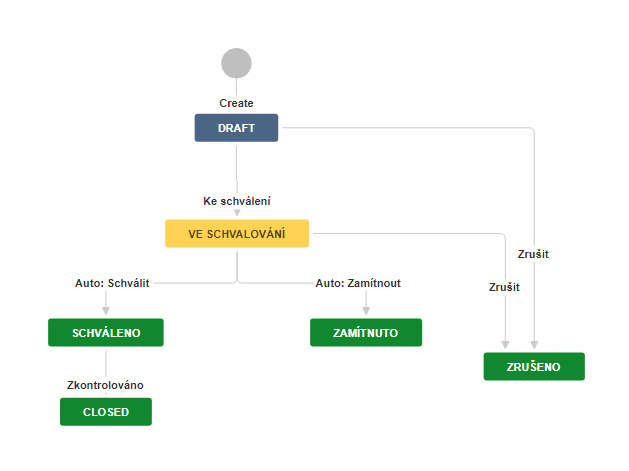 Workflow
The invoice processing process proceeds as follows:
The issue is created and the statis is set to Draft. In this state we can edit the issue.
After creating the issue, we will check the filled in data and click on For approval, and thus start the approval process. The superior will check the invoice and decide on the approval of the issue.
If the invoice is approved, it is passed to the accounting office.
The issue is closed after processing.

The picture on the left shows the whole workflow of the issue.